I am still playing around with the recipes from the book "The Breath of Wok". This book is really great. Not only it has such a clean directions, but it also use pretty easy to get ingredients. I guess the author is thinking about American's taste. She doesn't use much of ingredients such as pork intestine, pork stomach, liver etc. She use ingredients such as skinless, boneless chicken thigh, just plain pork, beef, crabs, shrimps, you know…stuff that you can get from any American/Canadian grocery stores.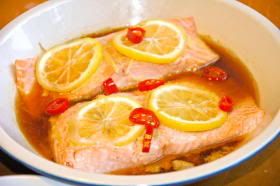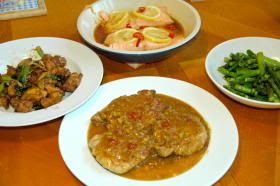 I don't remember anymore on how many recipes from this book that I have tried. Yesterday I made the Nevin Lim's Traditional Oyster Chicken. It taste great. I would love to make it again. I tried the Danny Chan's Steamed Salmon with Lemon…well… since I am not that a big a fan of fish, I think this is a little too bland for me. For vegetable side dish, since I have plenty of asparagus in my fridge I made the Cecilia Chiang's Asparagus with Gingko Nuts and Wolfberries dish but without ginkgo nuts and wolfberries. I do have wolfberries but I am just lazy to put them in and I just don't have the will to go to Asian grocery store just to buy gingko nuts which is available all the time. Without them, the asparagus dish become just a plain stir-fried asparagus but that's fine with me. I also made Martin Yan's Mandarin Five-Flavoured Boneless Pork Chops, but believe it or not, I haven't taste it yet and it's already eaten by Richard. I think he thought I already had my dinner first with Kai Kai.
The only chapter that I have not tried from this book is the smoking chapter. I am just worried that the smoke will set off all of my smoking detectors' alarms! Maybe when I am in Indonesia I will try them.
Today I also borrowed a book from the library.

It's called
Modern Classics Book 2: Cookies, Biscuits & Slices, Small Cakes, Cakes, Desserts, Hot Puddings, Pies & Tarts
by Donna Hay (Author)
The recipes looks so easy so I can't resist to try one of them. I tried the Sponge Cake since it only required 6 eggs, 3/4 cup of sugar, and 1 1/4 cup of flour. How easy is that? Sounds to good to be true right? Well…it is too good to be true. Even though it came out very pretty, but it lack of taste. It is not sweet enough for my taste, I think it needs another 1/2 cup of sugar at least! But I can imagine that my mom might like it since she is diabetic. This recipe doesn't even need vanilla essence, so I add 2 tsp vanilla essence just to kick it up a notch!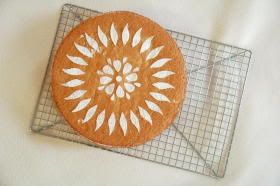 Talking about kicking it up a notch… I receive my Emeril's pot luck book that I won from Ebay…yeah!!! The reason why I buy this book is because Richard is a big fan of Emeril …