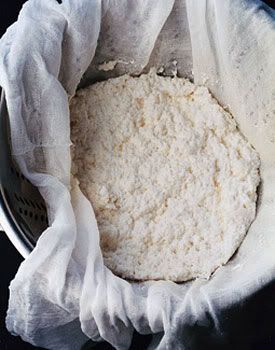 This is a usefull recipe for people who live in Indonesia or somewhere else where ricotta is not widely available but they want to try to make recipes that use ricotta as an ingredient.
This is more delicate in flavor than any store-bought version and has a lovely dry curd. Some of us make it at home often because it takes just a few minutes of active time. Topped with honey and cinnamon, it's also great for dessert.
2 quarts whole milk
1 cup heavy cream
1/2 teaspoon salt
3 tablespoons fresh lemon juice
Special equipment: large sieve, fine-mesh cheesecloth
Line a large sieve with a layer of heavy-duty (fine-mesh) cheesecloth and place it over a large bowl.
Slowly bring milk, cream, and salt to a rolling boil in a 6-quart heavy pot over moderate heat, stirring occasionally to prevent scorching. Add lemon juice, then reduce heat to low and simmer, stirring constantly, until the mixture curdles, about 2 minutes.
Pour the mixture into the lined sieve and let it drain 1 hour. After discarding the liquid, chill the ricotta, covered; it will keep in the refrigerator 2 days.
Makes about 2 cups.
From: Epicurious.com