On one of my posting at
Yohana's Diary
, I wrote about what I did on my birthday. I went to my favorite market,
Grenville Island Public Market
, and purchased 2 bags of black fettucini pasta ( it was made by using squid's ink ) just because they look so awesome. When I bought them, I asked the seller what kind of pasta sauce should I use, he suggested me to use alfredo sauce and other cheesy tipe of sauce. Sauce that looks white, but I don't like the idea because I want to take a picture of the result and I don't want all those cheesy white sauce covered my black beauty pasta! So I just made a simple Italian meat sauce,light, tasty but won't distract the sight of those glorious black pasta!
Here is the result ...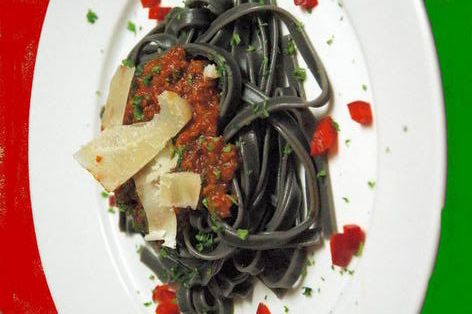 Pasta and Easy Italian Meat Sauce
Serves 4; Prep time: 15 minutes; Total time: 30 minutes
Here is a meaty tomato sauce that doesn't need to cook for a long time to be delicious. The sauce is based on the famed Ragù alla Bolognese (sauce in the style of Bologna). The addition of milk might seem unusual, but it's traditional in northern Italy—where butter and cream, as well as milk, are essential to the cuisine.
4 tablespoons butter
1 tablespoon olive oil
1 carrot, grated (about 1/2 cup)
1 onion, chopped
2 garlic cloves, chopped
3/4 pound ground beef
1 can whole tomatoes (28 ounces)
1/2 cup milk
1 dried bay leaf
1/2 teaspoon dried thyme
1/4 teaspoon ground nutmeg
Salt and pepper
1 pound fettuccine
Grated Parmesan cheese, for serving
1. Heat butter and oil in a large saucepan over medium heat. Stir in carrot, onion, and garlic. Add ground beef, and cook until it turns from pink to brown, about 5 minutes.
2. Add tomatoes and their liquid, crushing them with the back of a large spoon. Stir in milk, bay leaf, thyme, nutmeg, 1/2 teaspoon salt, and 1/8 teaspoon pepper. Simmer 20 minutes.
3. Meanwhile, in a large pot of boiling salted water, cook fettuccine until al dente according to package instructions, about 12 minutes. Reserve about 1/2 cup of the cooking water; drain fettuccine, and return to the warm pot. Add meat sauce, and toss. Add pasta water as needed if the sauce seems dry. To serve, sprinkle with Parmesan.
Note: Reserve some of the pasta cooking water, and add a little to the sauce if it seems too thick. The water is ideal for adjusting the consistency of the sauce, and the starch in the water helps the sauce adhere to the pasta.
If you are looking for more photos on Grenville Island Public Market, you can visit this
site
.