For a whole garlic put it in a microwave for a minute ( 500W microwave ). But for individual clove of garlic it takes only 20 seconds. Then for 2 = 30 seconds, and 3 = 40 seconds.
There is another method of how to remove garlic skin fast is by freeze them first.
Personally I like the first method better than the second one because after I freeze the garlic, I found that both the garlic texture and taste altered a little.
Then my husband, Richard send me this photos that also give me a tip on how to peel garlic skin fast. All you need to do is divide the garlic into individual cloves then put them in a big plastic cup with a tight lid and shake it, when you open, they should be out of their skins.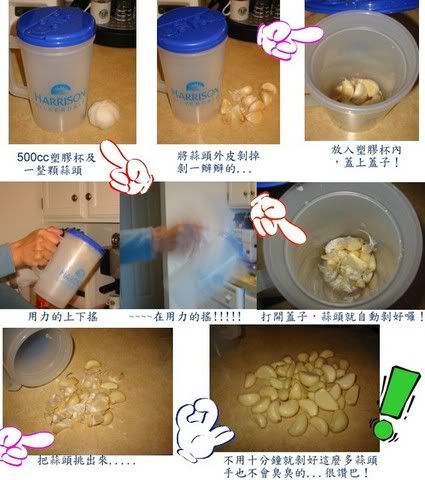 Well... good luck on trying all of these methods. I know I will try all of them!